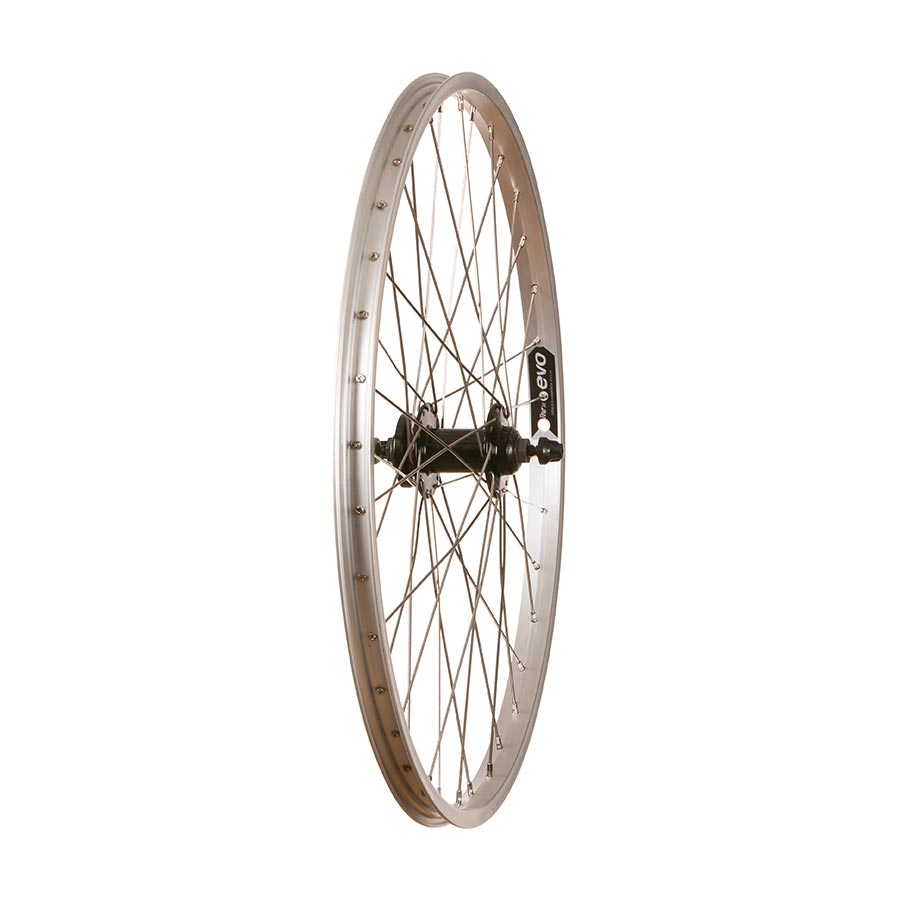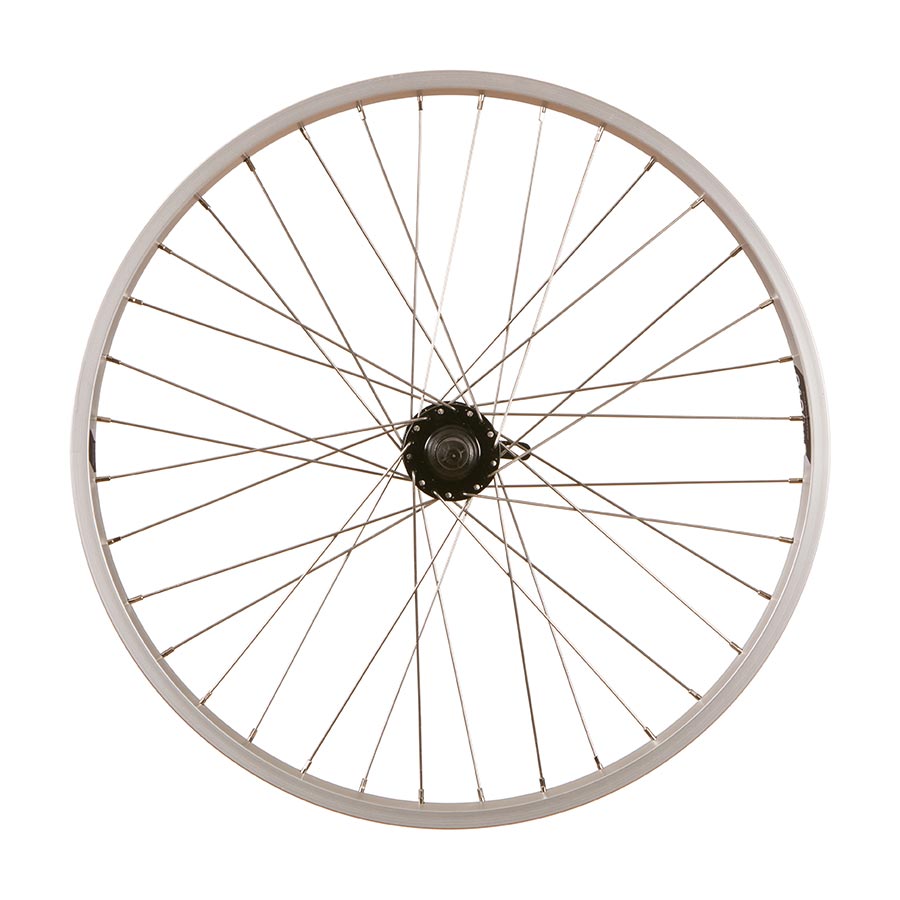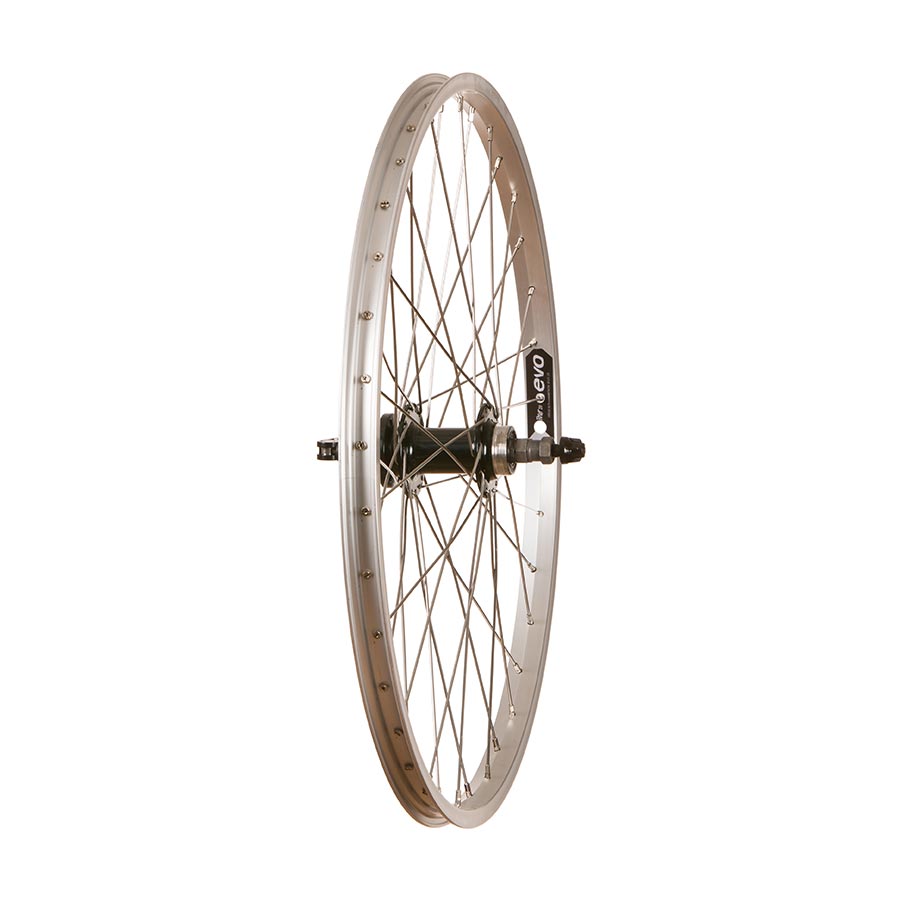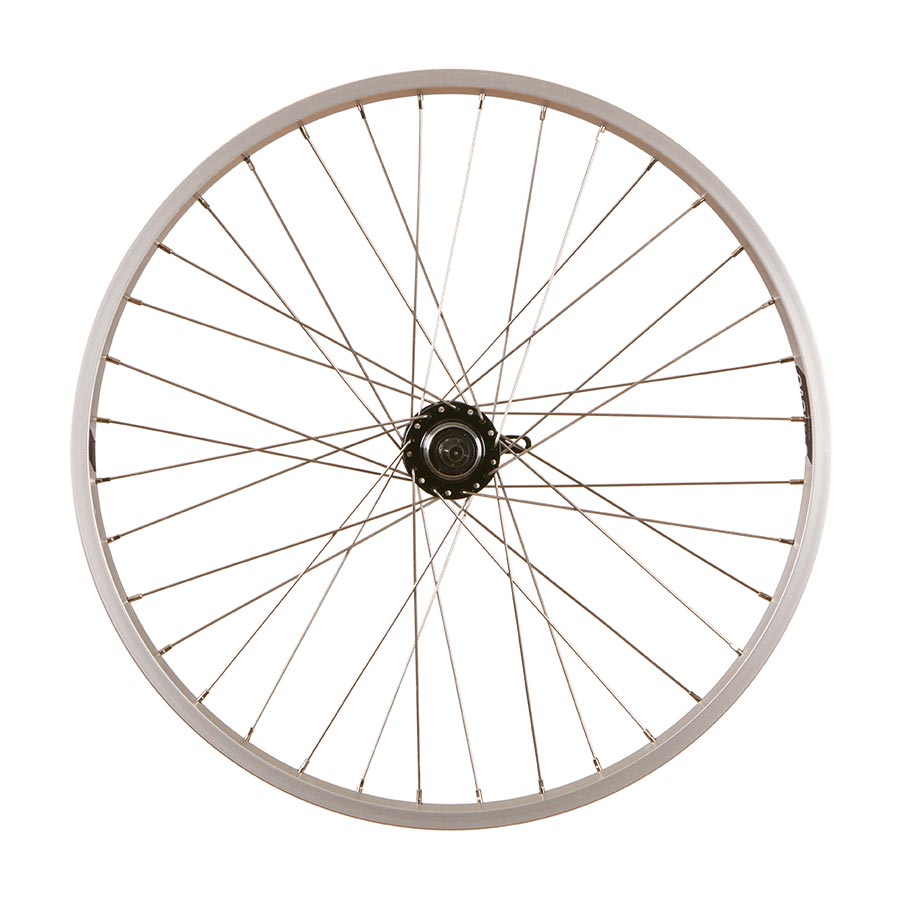 Evo Tour 20 Bicycle Wheels 24''
Title:
Front, 24'' / 507, Holes: 36, QR, 100mm, Rim and Disc IS 6-bolt
Discover the Evo Tour 20 Bicycle Wheels, now available in a 24'' variant for those in pursuit of versatile cycling adventures. The EVO Tour 20 rims, designed for the 24'' (ETRTO 507) biking enthusiasts, come with an expansive inner width of 19.8mm, facilitating a diverse range of tire sizes, spanning from 24'' x 1.5'' to 2.25''. Adorned in a sleek silver finish and constructed with a robust pinned joint, these rims are a harmonious blend of aesthetics and durability. Further augmenting its allure, each rim supports both rim and disc brakes and incorporates a 36-hole design, precisely drilled to accommodate Schrader valves, ensuring robust performance and adaptability.

Delving into the hub dynamics, the front hub is a marvel, tailored from high-grade 6061 Alloy. With dimensions set at QR 9x100mm and an inclusive binder, this hub is further enhanced with a 6-Bolt Disc Mount, all encapsulated in a sophisticated black finish. Its adjustable bearings guarantee smooth operations, and rubber seals are strategically integrated to offer additional protection. On the rear end, the hub, also forged from the robust 6061 Alloy, boasts dimensions of QR 10x135mm. Equipped with a 6-Bolt Disc Mount and presented in a classy black finish, this hub assures seamless performance thanks to its adjustable bearings and the security provided by the rubber seals. The freewheel mechanism promises uninterrupted, smooth rides. Each of these wheels stands as a testament to Canadian craftsmanship, meticulously assembled by experienced wheelbuilders utilizing Sapim's superior 14G Stainless Steel spokes and the sturdy 14mm Brass Polyax Nipples. Choose the Evo Tour 20 Bicycle Wheels in 24'' for a cycling experience that's both smooth and stylish.
24'' (ETRTO 507)

Inner width: 19.8 mm

Recommended tire size range: 24'' x 1.5'' to 2.25''

Silver

Pinned joint

Drilled for Schrader valve

Rim and Disc brake compatible

36 holes

Front hub:

QR 9x100mm (Binder included)

6-Bolt Disc Mount

6061 Alloy

Black

Adjustable bearings

Rubber seals

Rear hub:

QR 10x135mm (Binder included)

6-Bolt Disc Mount

6061 Alloy

Black

Adjustable bearings

Rubber seals

Freewheel

Assembled in Canada by experienced wheelbuilders using Sapim 14G Stainless Steel spokes and 14mm Brass Polyax Nipples
Attributes
| | |
| --- | --- |
| Rim inner width range | 0-21.9mm |
| Rim Internal Width | 19.8mm |
| Valve | Schrader |
| Wheel Diameter/ISO | 24'' / 507 |
| Depth | 16.8mm |
| Rim Drilling | 36 |
| Rim Model | Evo Tour 20 |
| Axle Type | QR |
| Hub Spacing | 100mm |
| Rim Color | Silver |
| Position | Front |
| Rim Construction | Single wall |
| Rim Material | Aluminum |
| Wheel-Brake Comp. | Rim and Disc IS 6-bolt |
| Spoke Type | J-Bend |
| Skewers Included | Yes |
| Wheel Tire Type | Clincher |