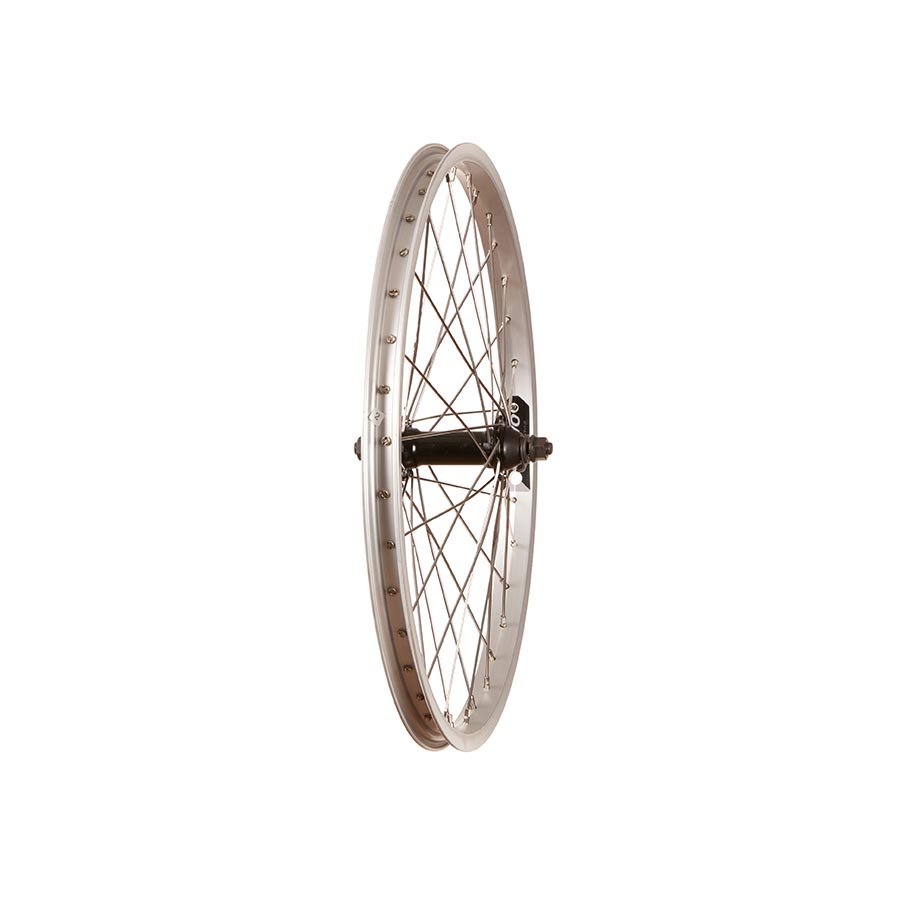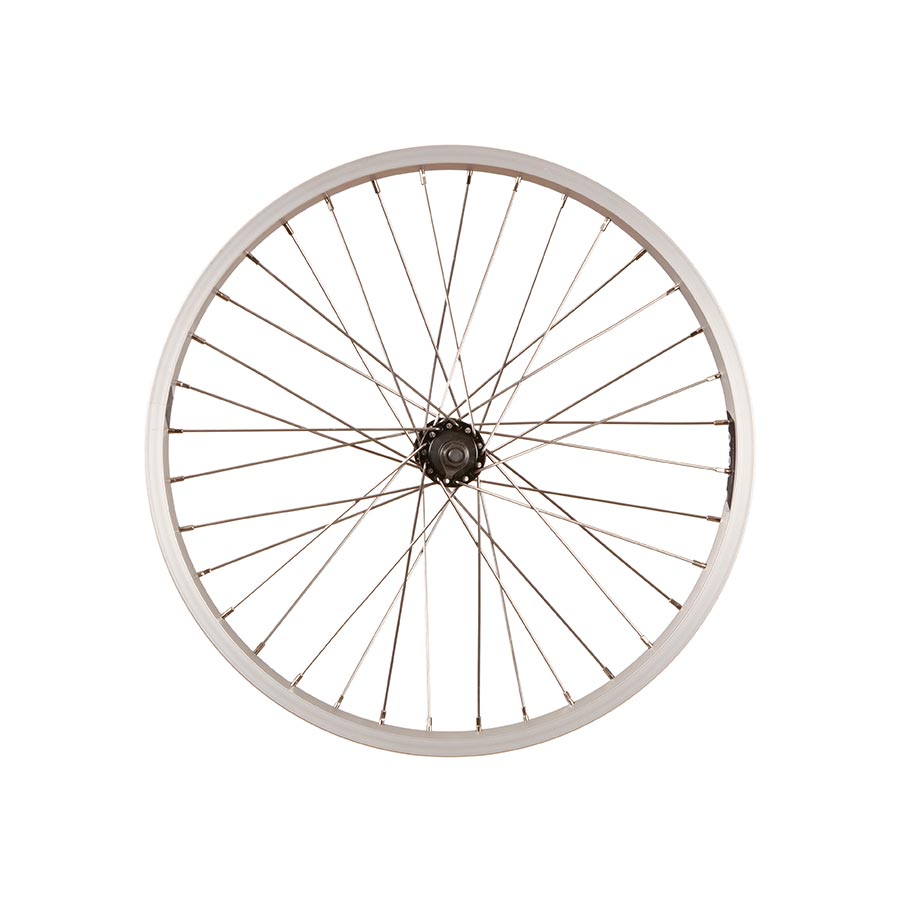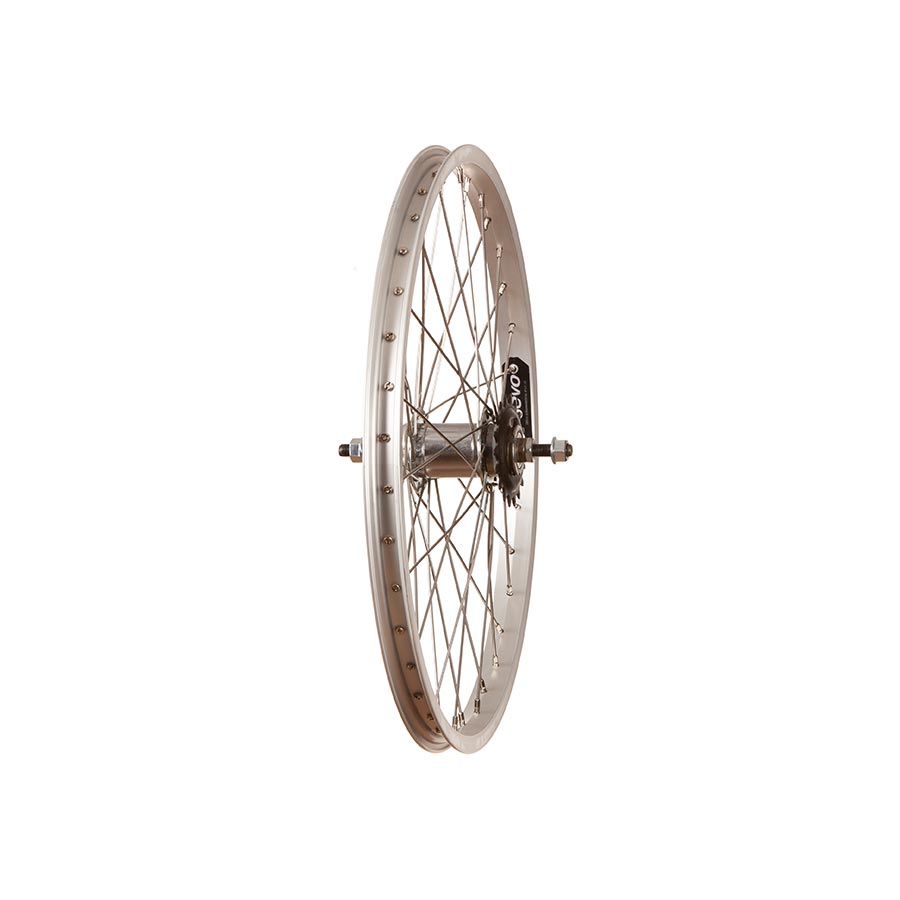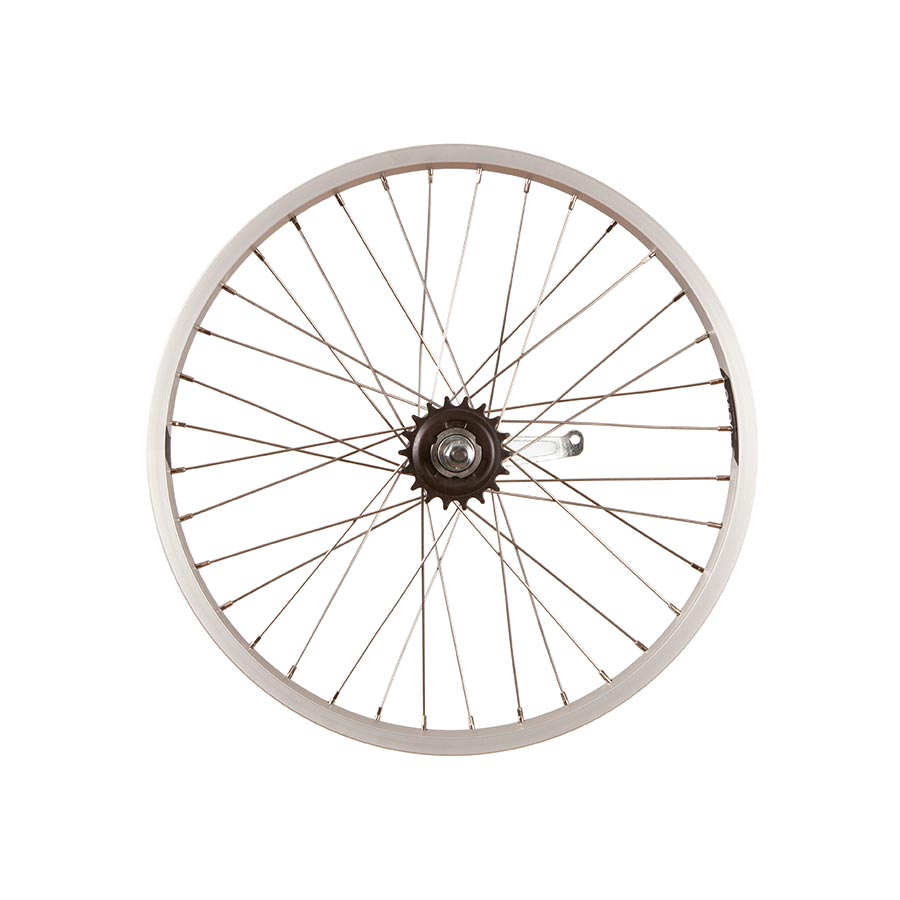 Evo Tour 20 Bolt-On Bicycle Wheels 20''
Title:
Front, 20'' / 406, Holes: 36, Bolt-on, 100mm, Rim
Introducing the Evo Tour 20 Bolt-On Bicycle Wheels, tailored explicitly for the 20'' ride aficionados. Engineered for precision and durability, these wheels bring together the best of design and functionality to cater to a diverse range of cyclists. The EVO Tour 20 rims, sized at an elegant 20'' (ETRTO 406), boast an expansive inner width of 19.8mm, guaranteeing compatibility with a broad spectrum of tire sizes ranging from 20'' x 1.5'' to 2.25''. Adorned in a pristine silver finish and crafted with a sturdy pinned joint construction, these rims are both a visual delight and a testament to resilience. Their 36-hole design, meticulously drilled for Schrader valves, assures unwavering structural strength, setting the stage for countless smooth rides.

Delving into the hub specifics, the front hub (-01) is a masterpiece, meticulously crafted from 6061 Alloy. It features dimensions of 3/8'' x 100mm and is designed for a bolt-on mechanism, complete with adjustable bearings and fortified with rubber seals for optimal protection. The rear hub range offers two distinct options: The -02 hub variant, made from 6061 Alloy, spans 3/8'' x 135mm and is equipped with a bolt-on mechanism, adjustable bearings, and rubber seals. It's designed for freewheeling, promising uninterrupted cycling experiences. Alternatively, the -03 hub is equipped for those who prefer coaster brakes, with an included 18T cog for added convenience and dimensions of 3/8'' x 110mm. Each wheel is a symbol of Canadian craftsmanship, assembled meticulously by seasoned wheelbuilders who employ Sapim's premium 14G Stainless Steel spokes and the robust 14mm Brass Polyax Nipples. Opt for the Evo Tour 20 Bolt-On Bicycle Wheels for 20'' and embark on journeys marked by unparalleled style and efficiency.
20'' (ETRTO 406)

Inner width: 19.8 mm

Recommended tire size range: 20'' x 1.5'' to 2.25''

Silver

Pinned joint

Drilled for Schrader valve

36 holes

Front hub (-01):

6061 Alloy

3/8'' x 100mm

Bolt-on

Adjustable bearings

Rubber seals

Rear hub (-02):

6061 Alloy

3/8'' x 135mm

Bolt-on

Adjustable bearings

Rubber seals

Freewheel

Rear hub (-03):

3/8'' x 110mm

Coaster brake

18T cog included

Assembled in Canada by experienced wheelbuilders using Sapim 14G Stainless Steel spokes and 14mm Brass Polyax Nipples
Attributes
| | |
| --- | --- |
| Rim Internal Width | 19.8mm |
| Hub Spacing | 135mm |
| Spoke Type | J-Bend |
| Wheel Diameter/ISO | 20'' / 406 |
| Rim Color | Silver |
| Rim Drilling | 36 |
| Position | Rear |
| Wheel Tire Type | Clincher |
| Rim inner width range | 0-21.9mm |
| Rim Model | Evo Tour 20 |
| Wheel-Brake Comp. | Rim |
| Freehub Body | Freewheel |
| Rim Construction | Single wall |
| Rim Material | Aluminum |
| Valve | Schrader |
| Axle Type | Bolt-on |
| Depth | 16.8mm |