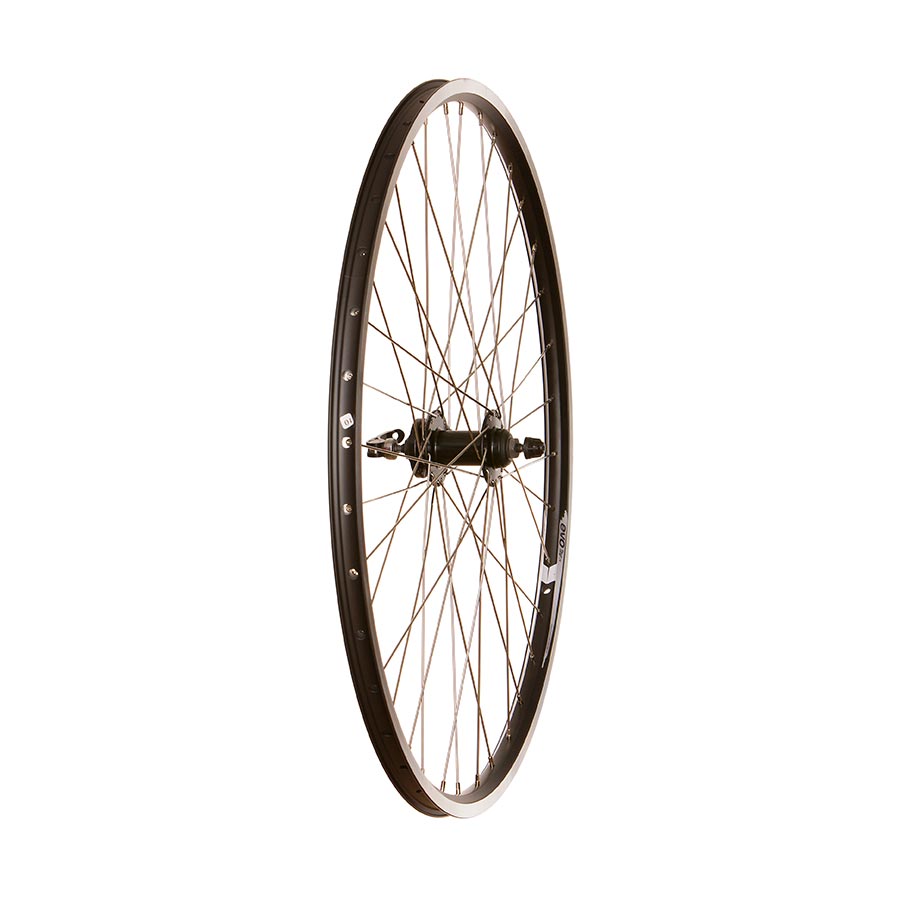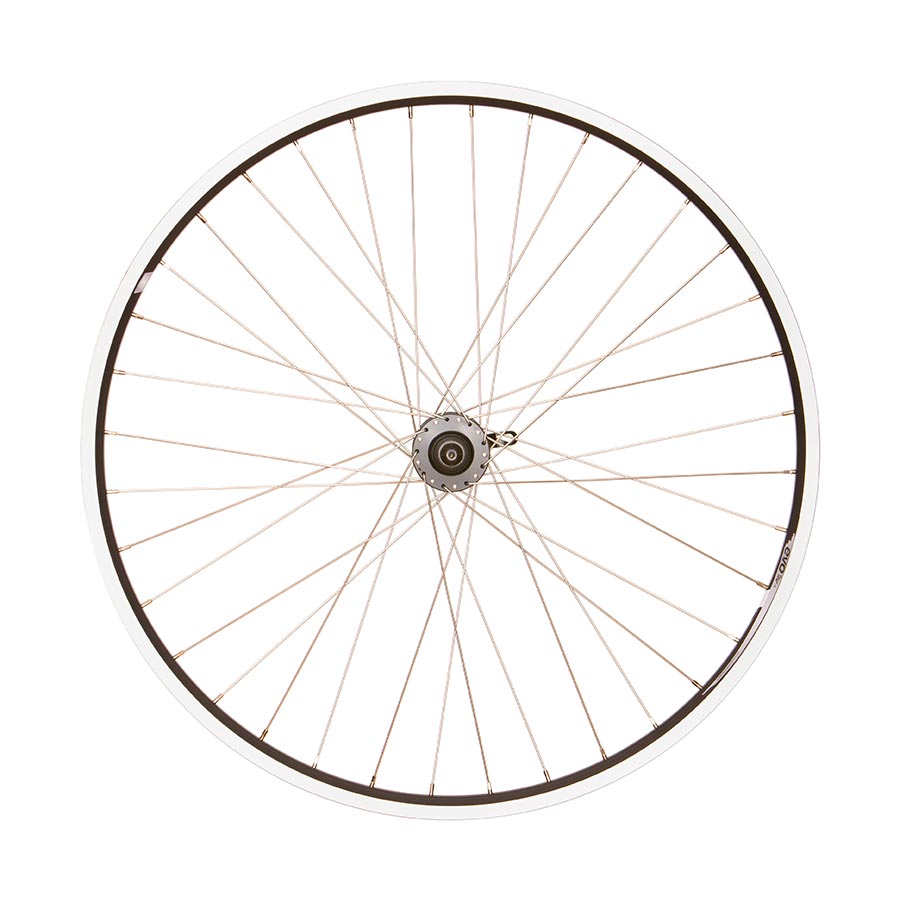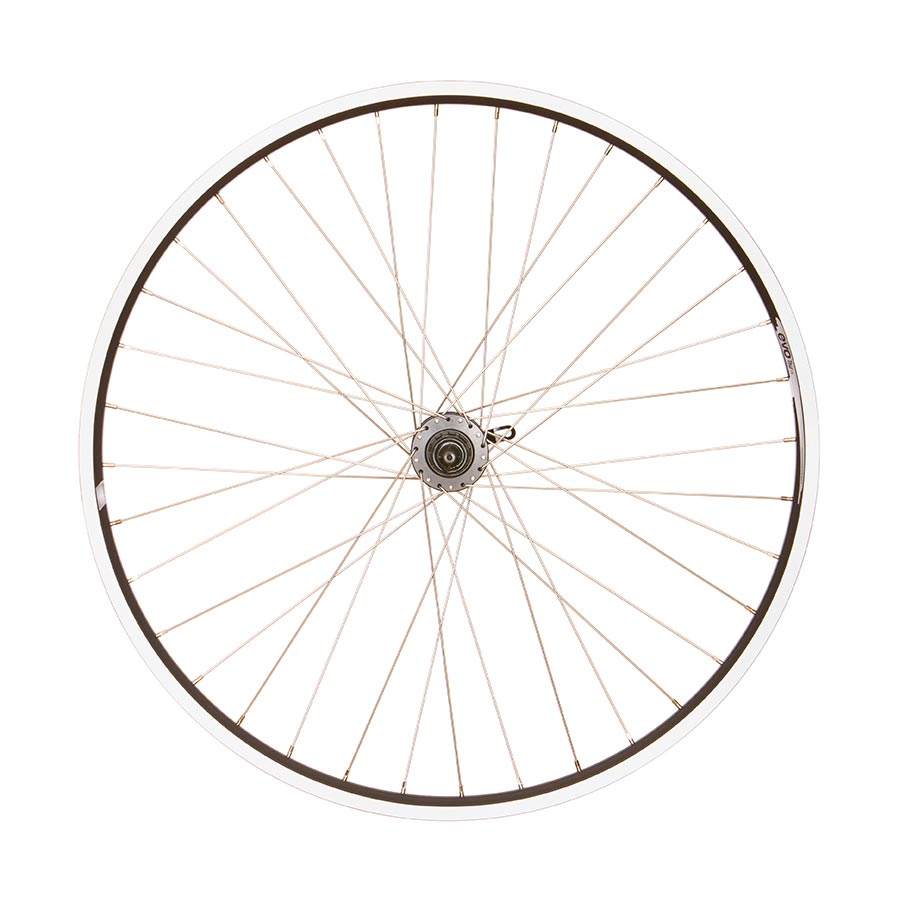 Evo Tour 19 Bicycle Wheels 700C/29"
Title:
Front, 700C / 622, Holes: 36, QR, 100mm, Rim and Disc IS 6-bolt
Experience the pinnacle of engineering and design with the Evo Tour 19 Blk QR Rim and Disc 700C/29" wheels. Perfectly compatible with either 700C or 29" setups, these wheels are crafted from a resilient 6061-T6 Alloy, encapsulated in a sleek powder coat satin black finish. Each rim, marked by an ETRTO of 622-19, boasts a 19mm inner width, double-wall construction, and CNC machined sidewalls for added durability. Thoughtfully drilled for Schrader valves and armed with 36 holes, these wheels offer versatility like no other — ready for both rim and disc brake setups.

The front hub, made from the same enduring 6061-T6 Alloy and adorned in an anodized black finish, comes equipped with a QR 9x100mm dimension, inclusive of a quick release binder, and features a 6-Bolt ISO disc mount. Its adjustable bearings and rubber seals promise longevity and smoother rides. Transitioning to the rear, the hub echoes its front counterpart with a QR 10x135mm dimension, a 6-Bolt ISO disc mount, and the same high-quality alloy and finish. It stands ready for diverse setups with an HG freehub compatible with 8/9/10 speeds. Every wheel is a masterpiece, assembled in Canada by expert wheelbuilders using Sapim's stainless steel spokes, and beautifully accentuated with 14mm Brass Polyax Nipples. With the Evo Tour 19, every ride becomes an exhilarating journey.
Rims: Evo Tour 19 700C / 29''
ETRTO 622-19

Inner width: 19mm

6061-T6 Alloy

Double Wall

Powder Coat satin black finish

CNC machined sidewalls

Drilled for Schrader valve

Rim or Disc Brake compatible

36 holes

Front hub:

QR 9x100mm (Quick Release binder included)

6-Bolt ISO disc mount

6061-T6 Alloy

Anodized black finish

Adjustable bearings

Rubber seals

Rear hub:

QR 10x135mm (Quick Release binder included)

6-Bolt ISO disc mount

6061-T6 Alloy

Anodized black finish

Adjustable bearings

Rubber seals

HG freehub compatible with 8/9/10 speed

Assembled in Canada by experienced wheelbuilders with Sapim stainless steel spokes and 14mm Brass Polyax Nipples
Attributes
| | |
| --- | --- |
| Axle Type | QR |
| Rim Construction | Double wall |
| Rim Model | Evo Tour 19 |
| Rim inner width range | 0-21.9mm |
| Rim Internal Width | 19mm |
| Wheel-Brake Comp. | Rim and Disc IS 6-bolt |
| Rim Drilling | 36 |
| Depth | 20mm |
| Rim Color | Black |
| Valve | Schrader |
| Wheel Diameter/ISO | 700C / 622 |
| Wheel Tire Type | Clincher |
| Spoke Type | Stainless |
| Rim Material | Aluminum |
| Skewers Included | Yes |
| Freehub Body | Shimano HG |